My Bucket List.
I've made so many bucket lists before… but they've always gotten deleted… mainly because I keep them on my phone for some reason. I thought it might be about that time that I post it online so I can keep better track of it… there's still so much left to do! I fell in love with a show on MTV called The Burried Life that used a bucket list for the basis of their...
2 tags
..The first part of the journey is your first...
As the submission process comes to an end for the 2013 MLB Fan Cave… I just want to take the time to thank EVERYONE who did ANYTHING to promote my candidacy this year. Last year I had one of the best experiences in my life getting to represent TB baseball, baseball fans, and the hard work of all of my friends and supporters. I feel like the luckiest girl in the world to have all of you...
I've been dancing on the tops of buildings. At the...
Last night I had such an awesome time. My friend's friend told me about an app for my phone to make it strobe…. so I downloaded it and during one of Enter Shikari's breakdowns, we just started dancing around with the strobe lights on our phones. Sometimes it's silly moments like that, that make your heart smile.
Without the bitter the sweet isn't as sweet...
When I went to the Public Relations Conference the other day…. it got kind of weird for me for a moment. I've shared with everyone how I had a heart complication, how I had corrective surgery, and how I developed PTSD and anxiety over it. The other day was a reminder to me that no matter how long it's been… you always have to concentrate on where you're going and not...
My Fortune...
In today's paper, my horoscrope told me: "Don't make the mistake of thinking the only reason people like you is that you contribute to making their lives better." Noted. But, I don't think it hurts to try to make others smile :o)
I did it!!!
Guess who finally purchased a new car?! That would be me! I can't even begin to explain how excited I am. I know there are people out there who probably don't understand my excitement because they've had a new car already. With the economy making it so difficult to find a job right now, I feel beyond blessed to have three jobs, and then anything I pick up in the promotinal...
I'm not saying... I'm just saying.
I found a way to relate something to music… are you shocked? haha. Remember TLC's song, "Unpretty?" It was awhile ago…. think hard….. got it? Okay…. Keep that song in mind when you read this. The moral: Just because you LOOK like a big fan, doesn't mean that you are. Your actions reveal what kind of fan you really are. I don't, by any means,...
2 tags
To borrow a lyric from Relient K, "It's funny how...
Okay, I lied. I said that I would stop writing blogs about this, but people still ask me questions about what I went through and what exactly I had and what it does. I don't think it would be fair of me to stop educating people who are curious….. or to stop warning people to get themselves checked so they too can lead a healthy life. Today is the sixth anniversary of the start of all of this...
7 tags
CelebRAYte!
I want to thank everyone who took the time to allow me to ask them questions to build this article/blog :o). Since the early 1900's, baseball has been an important make-up of the Tampa Bay area. From being the spring training home to a long list of organizations throughout the years to finally seeing the inception of the Tampa Bay (Devil) Rays to Major League Baseball, the territory has...
1 tag
Job Market...
"Growing up" in today's society has got to be one of the hardest things that my generation will come face-to-face with. There's lack of jobs which leads to lack of income. In turn, this results in lack of opportunity to pay our debts to the financial institutions who helped us make it through college. Then we have the news telling us that the economy is not projected to...
1 tag
Bullying.
I keep hearing stuff on the news, reading things online, etc about individuals who are getting bullied for one reason or another. Bullying can come in the form of both physical and verbal ways—neither are okay. I just want everyone out there who gets or has gotten bullied to know…. you are an amazing person. Don't ever let anyone tell you otherwise. Don't be embarrassed to...
4 tags
My Summer Sounds Like...
I've wanted to make a mix cd for all of my friends for awhile now… so here we go—a digital one! I know most of these songs are dated, BUT I think they are amazing and they bring back great summer memories….  The player isn't going to show up on here, so just click this link and listen to the stellar jams below:...
8 tags
If Your Life Flashed Before You, What Would You...
I have had this blog written for days, but completely forgot to post it since I have been running around like crazy. #StoryOfMyLife I saw a quote Jose Molina posted on Twitter this morning that said, "Things may not turn out the way we expected, but at the end we'll see that what we have is better than what we wanted." I felt like it was a great way to sum up this trip. There...
1 tag
My View, Since You Asked.
I've had people text me and twitter me asking me about what I think of the Rays right now. I'm not an analyst, but I can certainly give my opinion based on what I see and based on what the numbers are telling me. The team is clearly hitting, which is a good thing. Last night they out hit the Jays (10 hits to 7 hits) but didn't come up with a W. Again, against Boston they had 7...
4 tags
Take Out Your Brooms! We Have A Sweep!
Game 162, September 2011. The comeback of all comebacks. Everything from the timing to the execution made the final game of the Tampa Bay Rays' season magical. Legions of die-hard Tampa Bay fans had been standing up for several innings, holding their breath each time the players attempted to swing their bats. A faint mumble began spreading among the crowd. A moment later, the large screen at...
we won't give up the fight.
April Fool's Day is obviously synonymous to pranking and being pranked. Over the years I have had my share of well thought out plans that I put into action to catch people in my life off guard. There were times that I laughed so hard that I cried. There were also times where people didn't think the jokes were as funny as I did. You win some, you lose some.  All of the reminiscing...
They got my district wrong!!! →
I'm officially a member of #District11PN. Become a citizen today. The 74th Hunger Games is coming March 23. http://TheCapitol.PN
4 tags
We Can Burn Brighter Than The Sun
If you haven't seen the news by now, I unfortunately did not make the final 9 for the MLB Fan Cave this season. However, that does not mean that you need to stop supporting the cause because I have many lovely friends who have been blessed with the opportunity and they will need your support throughout the season. Every single one of them deserves to be there (as do the other 21 of us who...
7 tags
Shine Your Own Light & Follow Your Own Path
I figured that my other blogs have been relatively short and haven't really examined everything that I have been through in the MLB Fan Cave competition. So, the story continues…. Being home now for three days, I have had time to reflect on how much I have enjoyed being part of the MLB Fan Cave contest and what it has meant to me as a fan. We all apply for jobs and contests really...
3 tags
Life Is A Journey.
During the 2011 World Series between the Texas Rangers and the St. Louis Cardinals, a promo aired stating that the MLB Fan Cave was looking for its next inhabitants. Having followed the Fan Cave last season, I immediately jumped at the opportunity to visit the website like the promo had directed. I frantically read through the news and saw that the application had not been posted yet. From that...
5 tags
I Report To Spring Training Tomorrow...
Doesn't that sound crazy? It's a true story, though. Tomorrow I am climbing aboard a plane destined for Arizona. The entire process that I have been through for the MLB Fan Cave has been exceptionally rewarding. At first, I was so stoked to find out that I made the top 50. That seemed like a dream. I think many people who haven't followed myself or the other finalists closely...
2 tags
Vote For Me! MLB Fan Cave 2012 →
We Should Get Jerseys 'Cause We Make A Good Team
I was able to take a shot from the group video chat tonight. MLB…. you've created a monster! haha. Today officially marks one week since I found out that I was selected as a finalist for the 2012 MLB Fan Cave. I've jumped up and down more time than I can count, and have pretty much told every stranger that I encounter on the streets. Stoked? BEYOND stoked. Being chosen to...
Vote Megan Into The MLB Fan Cave! →
Yankees or Rays. Why not both?
I have had a lot of people tell me that they don't understand how I can like two baseball teams who happen to play in the same division. I can completely understand that because you're right, that's not typical. Then again, I'm not your typical person.  My family is largely based in New Jersey and they all happen to be super fans for the New York Yankees, the New York...
Waking up before 7am seems so criminal.
I have been going crazy with trying to figure out what to get my brother for Christmas. Ideas are encouraged *lol*.
Shop to the Bo Sox. Ouch.
A gift to myself! Aren't these the hottest shoes?! http://t.co/Nucbh2G9
The only thing I don't like so far about the new phone is that it autocorrects too many words to the wrong word!
Just took our annual Christmas photo… we wore purple this year to change it up a bit. haha
RT @WrestlingDivaz: #FF @teammegan @nyknockout @AmyVitale @KimberLee90 @RoniJonah @amberoneal1 @GirlDynamite @KristinAstara13 @Tricepext …
Marlins are signing everyone!
Here's to honoring all of the brave people that lost their lives during the Pearl Harbor attacks on this date in 1941.
Pretty sure I'm contagious.
I don't want to brag….. BUT…. I got the cutest scarf in the entire world today. I don't know when I'll be able to wear it tho *lol*
Finally going to get a new phone today. Goodbye BB!!!!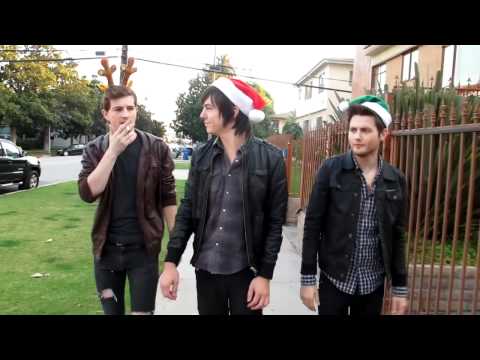 I got the cutest pair of brown boots today…. I just don't feel like I have anything that will look good with them. Time for more shopping!
They said on the news that stuffing yourself to the brim with food can cause a heart attack. Eat normal/regular portions. #thisisreallife
Make others believe in your hype…. but don't buy into it yourself.
Which direction to go…
Getting ready to go into NYC for The Truth day one!!! Wayyyy stoked.
I was just so excited to get fresh fruit… Then after I tasted it I knew it had originally been canned. #Fail
Some kid asked me to sign their baseball today. They probably should have saved the space for a player. *lol*